Our recommendations for October2015
Oktober 30, 2015, by Jochen Bareiss
Our Classical recommendation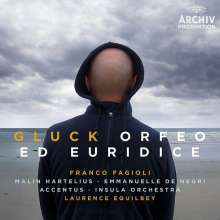 Christoph Willibald Gluck: Orfeo ed Euridice
It took a long time before the major labels discovered Franco Fagioli, a vocal sensation. Early music connoisseurs have known and cherished the peerless singer for years, but now he is slowly earning the broad recognition he deserves. His exceptional voice is worldwide unique at present and possesses an incredibly large range from lowest bass to exultant discant as well as an amazing technical versatility which comes close to wizardry. Despite all this virtuosity Franco Fagioli is much more than a singing high-performance robot. His very poignant interpretation of Gluck's Orfeo proves that he can feel and convey deep emotions. The other members of the cast under Laurence Equilbey's sensitive conductorship fit in marvelously. According to legend, listeners used to ecstatically faint by the dozens during the excellent performances of the castrati in the 17th century. Franco Fagioli is able to take us back in time and make us understand the feelings of the people back then. He's no countertenor under many, but one of a kind - a vocal sensation!
Christoph Willibald Gluck
Orfeo ed Euridice
Fagioli
DG-Archiv 4795315/3CD
Our Jazz recommendation

Brew Moore: Live in Europe 1961
Unfortunately only a few studio recordings by American saxophonist Milton Aubrey 'Brew' Moore still exist. In his heyday in the 50s and 60s he was famous for his natural phrasing, his soulful tone and his inimitable swing, which seems to be a gift of nature that cannot be learned. His nickname 'Brew' goes back to his excessive drinking habits. This might have been the reason why he never made it big despite his impressive talent. He was a restless spirit who relocated to Europe in 1961 and lived in Paris where these recordings were made. Later on he settled in Kopenhagen. At the early age of 49 he died in an accident while he was celebrating an inheritance which would have ended his previously poor living conditions.
Brew Moore
Live in Europe - 1961
Sonorama 091/CD
Experience Manger
The best way to get goosebumps is to experience a Manger system. We offer various ways:
Contact us
We love to hear from you, just simply choose the channel of choice to follow or contact us.